Registration Now Available for the Summer, 2012 Italy Photography Workshops in Tuscany and Venice!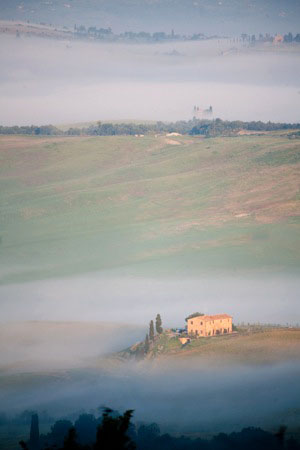 How do photographers develop a personal style? When – and how – can a photographer begin to establish a direction in his or her work? Perhaps most importantly, what makes a photograph become a "personal" statement?
We will work though a variety of strategies to help us tap into that creative part of our photographic selves. Through lots of image making, a blend of  formal and field instruction and plenty of time for discussion and critique, we will work to uncover themes and lines of vision that may not have been previously evident to you.
And we'll do it in Tuscany!
There are few places on earth like Tuscany. Its landscape is the landscape painted by the great artists of the Renaissance. Its architecture is known for its sense of proportion, beauty and attention to minute detail. Its people are distinctive, friendly and resilient. Its food presents simple flavors with extraordinary precision and grace.  Its light is soft, enveloping and revealing. This experience will allow you to experience Tuscany's remarkable culture, people, landscape and hill towns and work towards a personal photographic response to the Tuscan sense of place. I will push you to go beyond the picturesque and help you discover your own response to the texture, rhythm and spirit of Tuscany.
We will divide our photographic time between rural and urban locations and everything in between. There will be big towns that hustle and bustle and villages so small that fewer than two dozen people reside there and time has stood still. We'll photograph churches set in remote landscapes and cathedrals perched on the highest point of the hilltop towns. Twisting roads lined with cypress, endless fields dotted with the colors of spring wildflowers and gems of architecture will spread out before our cameras. You will meet – and photograph – Tuscan artisans who make wine, cheese and olive oil. You will learn about Tuscan art, culture and history. Some mornings, we'll be up early to catch morning light; some evenings, dinner will wait while we catch the last rays of the sun. Our driver will get us to the right places at the right time for the right light.
"Venice is like eating an entire box of chocolate liqueurs in one go." So wrote Truman Capote. Other writers and artists and poets have tried to capture the essence of a city that Italians call "La Serrinissima" – the most serene one. It's a city of water and stone but also a city of tremendous atmosphere and theatrical drama. Once one of the richest and most powerful republics in all of Europe, Venice is now one of the most well-preserved historic cities in the world. It's made up of 118 islands connected by footbridges and riddled with winding canals, creating a place that has an amazing quality of light and presence that is all its own.
Photographically, our objective will be to capture both the dream that is Venice and the everyday life of Venetians in their water bound world. Our time will be divided between the theatrical riot that is the central part of the city, the quieter and less touristed "sestieri" or neighborhoods outside of San Marco and the placid solitude of the Venetian lagoon and its outlying islands. We will also make time to look at and contemplate the images we make, with critique, guidance and advice I will help to push  you  towards richer, more complete photographs.
Working from the delightful and centrally-located Hotel Al Piave, we will work on photographing the essence of a city that is made up of light, air, water, stone and drama. I will work with you to help you develop your own response to this astonishing and magical city. Writer Fran Liebowitz said, "If you read a lot, nothing is as great as you've imagined. Venice is — Venice is better." She's right.
See work from previous workshoppers here!